Luxury Catamaran Yacht Charter

Shangani is a luxury seventy foot catamaran for charter in Phuket, Thailand, which can sleep up to 16 passengers on overnight charters, and take up to 30 on a day cruise.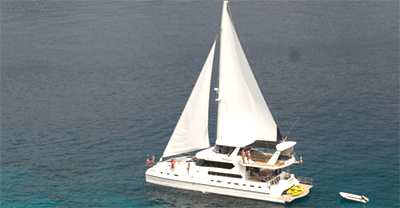 Why choose Shangani?
Because she can accommodate up to sixteen guests, in great comfort and luxury, and as there is so much space, with so many different areas to relax in, there is plenty of privacy for everyone. On day charters she can take up to 50 passengers.

Experienced Crew
The experienced crew was chosen not only for their nautical and culinary skills, but for their personality and discretion. They will always be on hand when you need them, but will fade into the background to give you privacy. Shangani has a crew of six - the very experienced Captain, his First Mate and Deck Hand, our yacht chef and hostess, and a masseuse.

Family Friendly
Being a catamaran, The Shangani is family friendly. She is stable and very spacious, ideal for those who have no boating experience. Children and adults alike will enjoy the jacuzzi-pool, swimming from the platform, the two kayaks (life-jackets provided), beach games and floating jacuzzis, the dinghy, fishing, snorkeling and scuba diving. And in the evenings, we have a large selection of movies and music for you to enjoy.

Delicious Thai Food
From wonderful Thai curries to five star western cuisine, catering to all nationalities - barbecued meats and freshly caught fish, with tropical fruit and salads - there is something for everyone, and we take your personal taste and requests into consideration.

Thai Massage and Jacuzzi
One of the really special things on Shangani, is the large Jacuzzi on the pool deck, a very unusual feature on a charter yacht, and a great place to relax and keep cool. Another Shangani speciality is our on-board masseuse. This is unique among charter yachts, and will give you the opportunity to indulge in a relaxing Thai massage at any time-A real luxury.

---
Why Jc.Tour:
Jc.Tour had registered for Tourism Company under the rule of Thailand Law: Inbound(34/00235)
The right registration must be checked, and you can check for Jc.Tour at http://www.tourism.go.th
Jc.Tour is the Top Responsible and Great Service in TripAdvisor Rank.
Jc.Tour has been registering for Accident Insurance all around the world (Inbound) This make sure that all the customer of jctour is covered by Insurance in every where.
Before, During and After the service, you can contact us 24 hours.

| | | |
| --- | --- | --- |
| | + Phuket, THA | |
| | | |
| | + Bangkok, THA | |
| | | |
| | + Chiangmai, THA | |
| | | |
| | + Chumphon, THA | |
| | | |
| | + Koh Tao, THA | |
| | | |
| | + Haatyai, THA | |
| | | |
| | + Khaosok, THA | |
| | | |
| | + Krabi, THA | |
| | | |
| | + Lanta Island, THA | |
| | | |
| | + Mergui, MYAN | |
| | | |
| | + RajaAmpat, IDN | |
| | | |
| | + Laos, LAO | |
| | | |
| | + Unique, THA | |
| | | |

Telephone :
+66 89 5727603
Line ID : @jctour
Viber :
+66 84 8053153
Whatsapp :
+66 84 8053153