The Hot Spring WaterFall Krabi One Day trip from Phuket

Krabi is the province which is far from huket, just about 2.3 Hours from Phuket by "our VIP Minibus." There are many high value places to visit in this big province area such as Nature Hot Spring, Nature Crystal Lake, Nature Waterfall in the Thick Safari etc.
Jc.Tour Company had searched every inch of Krabi and selected the most valued place to be "One Day Trip Krabi's Earth Package."
Huay-Tho Waterfall: It should be the best waterfall of Krabi, the completed nature and virgin lake of the waterfall without crowded tourists is a very good place for touching nature.
Crystal Lake: you have to walk past the thick safari in the area of "National Park" about 20 Minutes to swim in the "Real Nature Pool" which is hidden in the forest.
Clean and Clear nature pool, the mineral water comes out from around to be nature "Swimming Pool" in the forest.
Golden Monk Cave is located on the way to our trip. Never have any good reason for miss to stop for discovery of this unseen cave.
Hot Spring Waterfall is a great place for adapting to your health. Because of the water in this waterfall lake is a hot mineral water from under the earth.
Brief Programs

| | |
| --- | --- |
| 07.30 AM: | Pick-up from Hotel |
| 10.00 AM: | Arrive at Suwankuha Temple (Buddha Cave). Enjoy with wild monkeys & Sleep budha post. |
| 10.30 AM: | Depart from Suwankuha Temple direct to Huay Tho Waterfall in Krabi. This waterfall is beautiful & Biggest in Krabi Province. |
| 11.15 AM: | Arrive at Phanom Bencha National Park. Keep walking along the jungle to the waterfall. Enjoy swimming with the real nature of the national park. |
| 12.30 PM: | Depart from the waterfall to the restaurant. |
| 13.00 PM: | Enjoy lunch & give food for big fish at the restaurant. |
| 14.00 PM: | Depart from the restaurant and the highlight of the program is the emerald pool. |
| 14.40 PM: | Arrive at Emerald pool. Enjoy the rain forest by walking before swimming again at the emerald pool. |
| 15.45 PM: | Apart from the emerald pool, another highlight of the program is the hot spring Waterfall. |
| 16.00 PM: | Arrive at Hot Spring waterfall. Relax & Enjoy the hot spring waterfall. |
| 17.30 PM: | Change your clothes before departing from Hot spring to Phuket. |
| 20.00 PM: | Arrive back safely at your hotel. |
| | |
| --- | --- |
| | |
Price(Private Trip)

| | |
| --- | --- |
| Adult | 3,700 Baht/person |
| Child | 2,600 Baht/person |



Book Now!!! Gets FREE of Charge Transfer in by Private Minibus (Airport-Your Hotel)
Price includes:
Lunch (Thai Set Menu)(Halal or Vegetarian food on your request)
Soft Drink
Insurance
Round Trip transfer
English Tour Guide
All activities
What to bring
Beach Towel
Extra Cloths for change
Some Pocket Money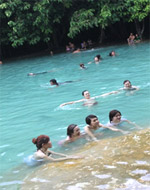 ---
Why Jc.Tour?:
Jc.Tour had registered for Tourism Company under the rule of Thailand Law: Both Outbound(31/01235) for around the world travel. Inbound(34/00235) for traveling in Thailand.
The right registration can be checked, and you can check for Jc.Tour at http://www.tourism.go.th
Jc.Tour is the Top Responsible and Great Service in TripAdvisor Rank.
Jc.Tour has been registering for Accident Insurance all around the world (Inbound: for travelling in Thailand and Outbound for around the world travelling). This makes sure that all the customers of JC Tour will be covered by Insurance in everywhere of the world they reach.
Before, During and After the service, you can contact us 24 hours.

Telephone :
+66 89 5727603
Line ID : @jctour
Whatsapp :
+66 84 8053153

| | | |
| --- | --- | --- |
| | + Phuket, THA | |
| | | |
| | + Bangkok, THA | |
| | | |
| | + Chiangmai, THA | |
| | | |
| | + Chumphon, THA | |
| | | |
| | + Koh Tao, THA | |
| | | |
| | + Koh Samui, THA | |
| | | |
| | + Haatyai, THA | |
| | | |
| | + Khaosok, THA | |
| | | |
| | + Khaolak, THA | |
| | | |
| | + Krabi, THA | |
| | | |
| | + Lanta Island, THA | |
| | | |
| | + Mergui, MYAN | |
| | | |
| | + RajaAmpat, IDN | |
| | | |
| | + Laos, LAO | |
| | | |
| | + Unique, THA | |
| | | |
| | + Longtail Boat Charter Around Thailand | |
| | | |