If you have to save time, you need to visit almost all of the popular places around Phuket. How can you do it?

In the short holiday, most of the popular interesting places around Phuket can be visited. This package can give a right answer for the question.
In the package, you can visit "James Bond Island", the first Hollywood movie site for filming in Phuket.
Floating Village or Panyee Island is the place which you must visit, if you have a chance to have a holiday in Phuket.
Krabi is the newest popular destination for holiday in Thailand. Chicken Island, Separated sea (Talewak), Pranang Bay and Porda Island are very attractive Places of Krabi.
PP Island, Maya Bay, Pele Bay, Loh-Sama bay, Viking Caves and Monkey Beach are top destinations  for the people around the world. We can say that "No those places, no Phuket."
Overnight on PP Island, you can get the Real Holiday Feeling. Nice Room, Nice Beach for all the time, nice nightlife and a graceful  Purity Fresh Air.
Brief Programs



Day 1




| | |
| --- | --- |
| 07.30 AM: | Pick up from the Hotels |
| 08.00 AM: | Leaving from Boat Lagoon Marina |
| 08.40 AM: | Sightseeing at Koh Panak, the biggest island in Phang Nga Bay. The Geological history of the Area. |
| 09.30 AM: | Canoeing and sightseeing at Koh Hong through the internal network of fantastic lagoons and caves. |
| 10.30 AM: | Visiting James Bond Island (Kao Ping Kan) and sightseeing at Khao Ta Poo. Sea Gypsy Market. |
| 12.00 PM: | Lunch at Koh Panyee (Sea Gypsy Village) |
| 13.30 PM: | Swimming, snorkeling and relaxing at Koh Hong (Krabi). |
| 14.30 PM: | Sightseeing at His Majesty The King of Thailand Residence of Krabi Province. |
| 15.00 PM: | Phra Nang Beach. The Cave of the Spirit of the Princess. Swimming and relaxing on the beach. |
| 16.25 PM: | Visiting Tale-Wake (Separated Sea). |
| 17.30 PM: | Check in at the Hotel in Phi Phi Don Island at Tonsai Bay. |
| 18.30 PM: | Dinner at the Restaurant |
| 19.30 PM: | Free Time |





Day 2




| | |
| --- | --- |
| 07.00 AM: | Breakfast and Check-out |
| 08.00 AM: | Departure from Hotel |
| 08.10 AM: | Enjoying the pristine beach of Maya Bay, the most famous place in Phi Phi Island that is free of crowds at this time. Swimming and relaxing on the beach. |
| 09.00 AM: | Sightseeing in Pi Leh Lagoon, Viking Cave and Monkey Beach |
| 10.30 AM: | Snorkeling in Nui Bay |
| 12.30 PM: | Lunch at Phi Phi Natural Resort |
| 13.45 PM: | Enjoying staying on Bamboo Island, swimming, snorkeling and relaxing on the beach. |
| 16.30 PM: | Arrival at  Boat Lagoon Marina and transfer back to the Hotels. |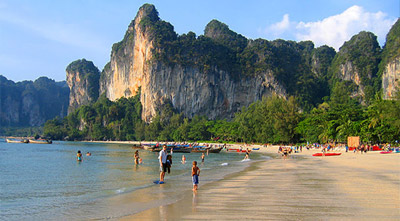 Price

| | |
| --- | --- |
| Adult | 7,500 Baht/person |
| Child | 6,500 Baht/person (4-11 years old) |



Book Now!!! Gets FREE of Charge Transfer in by Private Minibus (Airport-Your Hotel)
Price includes:
1 Breakfast , 2 Lunch, 1 Dinner(Halal or Vegetarian food on your request)
Drinking Water and Fresh Fruit of Boat
Snorkeling Gear, Life Jacket, Fins
Paddle Guide, Canoe, English Speaking Guide
Personal accident insurance
Experienced Capt and Crew

R/T Transfer from Hotel
2 Days a week : Wednesday & Saturday only
---
Why Jc.Tour?:
Jc.Tour had registered for Tourism Company under the rule of Thailand Law: Both Outbound(31/01235) for around the world travel. Inbound(34/00235) for traveling in Thailand.
The right registration can be checked, and you can check for Jc.Tour at http://www.tourism.go.th
Jc.Tour is the Top Responsible and Great Service in TripAdvisor Rank.
Jc.Tour has been registering for Accident Insurance all around the world (Inbound: for travelling in Thailand and Outbound for around the world travelling). This makes sure that all the customers of JC Tour will be covered by Insurance in everywhere of the world they reach.
Before, During and After the service, you can contact us 24 hours.

Telephone :
+66 89 5727603
Line ID : @jctour
Whatsapp :
+66 84 8053153

| | | |
| --- | --- | --- |
| | + Phuket, THA | |
| | | |
| | + Bangkok, THA | |
| | | |
| | + Chiangmai, THA | |
| | | |
| | + Chumphon, THA | |
| | | |
| | + Koh Tao, THA | |
| | | |
| | + Koh Samui, THA | |
| | | |
| | + Surin Island, THA | |
| | | |
| | + Haatyai, THA | |
| | | |
| | + Khaosok, THA | |
| | | |
| | + Khaolak, THA | |
| | | |
| | + Krabi, THA | |
| | | |
| | + Lanta Island, THA | |
| | | |
| | + Mergui, MYAN | |
| | | |
| | + RajaAmpat, IDN | |
| | | |
| | + Laos, LAO | |
| | | |
| | + Unique, THA | |
| | | |
| | + Longtail Boat Charter Around Thailand | |
| | | |