The trip offers the private group: Visit the unseen area of Thailand's Southern. Khao Nayak (Or Giant Face Mountain). The adventure must pass the Giant Grass Field (Some one called Savanna Field of Thailand). Do a great sightseeing and seeking many species of difference birds.

The adventure stop on the "Unseen Virgin Beach which is located on the front of Giant Face Mountain Cliff. Just a few tourist had touched this beautiful beach. And yes on your tour day, it may be is just only your group.

This trip is suitable for some one need to visit "no crowd beach at all", some one who love to discover passing the purity nature of grass field someone who love to touch the virgin beach, or someone who love to see something difference from the mass tourist.

We recomend you to read the carefully program (To make sure this trip is suitable for you) and see the highlight pictures of the program.

Savanna Grass Field
The beautiful of Thailand's Savanna Field. The field is wild grass and the cajuputi safari. The 4 Wheel drive Off Road Truck takes to sightseeing around and passing the middle of the field. Enjoy the difference trees, flowers, animals, and get the real breeze of nature safari.

Giant Face Mountain Beach
The hidden beach - no crowd touched it before, is located amid the cliff of the mountain called Giant Face Cliff Mountain. The sand still virgin white and nature clean. The water is very clear, there are many strange nature rocks all around. The beach is nice for relaxing: Swimming, Snorkeling, Walking along the beach or rolling yourself on the sand. As well as, the private picnic lunch served on the private beach (Because of no the other, just your group)

Mangrove Safari Discovery (Walk and Kayaking)
In the trip, the discovering Mangrove Safari Live is a great activity as well. We start by walk into the thick area or safari and continue by Kayaking to get more deep to study wild animals the tree, the birds, some small and big fishes.

Comfortable Minibus + 4x4 Isuzu Off Road
Nice Driver with a clean comfortable Minibus transfer from your hotel in Phuket to the edge of Safari at Tai-Muang District of Phang Nga Province (3 Hours) Afterward continue by 4x4 Isuzu Off Road into the Safari passing the hard road, savanna grass field, safari and Giant Face Beach.
Program :

06:00 AM:
The comfortable minibus picks up from your hotel in Phuket (Every area)

- Drive passing the Sarasin Bridge (Which is the combination between Phuket Island and the mainland) - Sunrise over the bridge is a great picture.

- Arrival Taimuang Beach. We change the vehicle from the Minibus to be 4x4 Isuzu 4 doors Sightseeing Car.

- The 4x4 runs slowly as adventure style pass the giant savanna grass field and Melateuca Cajuputi Powell Safari. This makes you be fun adventure with variety species of birds and other wild animals and breeze of fresh Oxygen form safari nature.
12:00 PM:
The hidden beach. Real Virgin, Real White Sandy Beach, Clear Water and No crowd. Discovering the hidden virgin beach. Someone love to roll yourself on white sandy beach, someone love to walk slowly along the beach, someone love to discover the strange shapes big rocks on the beach, someone love to do discovery jungle walk over the mountain or some one love to do snorkeling....Yeh... let your heart guide you. This beach is belonged to yours....today.
13:00 PM:
Pick Nick Lunch served on the beach.

- Enjoy the beach. And do the jungle Walk up to the Mountain safari.

- Visit the Biggest Mangrove Safari Life - Walking into the safari by wooden walk way. Enjoy the wild life around - Gibbon, Monkeys, Insects, Birds, shallow sea water fishes etc...
15:00 PM:
The Minibus transfer back to your hotel.
Price :

Adult
3,500 Baht/person

(Minimum Booking 2 persons)

Child
2,500 Baht/person (4-12 Years)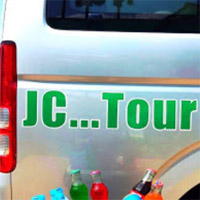 Tour Included:
Comfortable Minibus of Jc.Tour (Maxus Layland)
4x4 Isuzu 4 Doors Discovery Car
Pick Nick Lunch
Soft Drinks (Drinking Water, Coke) + Hot Coffee serves all the time.
Jc.Tour Hat
All National Park Fee
English Tour Guide
Accident Insurance 600,000 Baht/Person.


---
Why Jc.Tour?:
Jc.Tour had registered for Tourism Company under the rule of Thailand Law: Both Outbound(31/01235) for around the world travel. Inbound(34/00235) for traveling in Thailand.
The right registration can be checked, and you can check for Jc.Tour at http://www.tourism.go.th
Jc.Tour is the Top Responsible and Great Service in TripAdvisor Rank.
Jc.Tour has been registering for Accident Insurance all around the world (Inbound: for travelling in Thailand and Outbound for around the world travelling). This make sure that all the customer of JC Tour will be covered by Insurance in everywhere of the world they reached.
Before, During and After the service, you can contact us 24 hours.