This is a special trip for strong people who never like to miss any point. The trip offers to visit every beautiful point on PP Island Speed Boat route - PP Don Island, Maya Bay, Pele Cove, Monkey Beach, Viking Cave, Loh Samah Bay, Bamboo Island and Khai Island.
Maya Bay: The place for the movie "The beach" filming. It is the world class destination of Sea Tourism at the moment. No reason to say "no" for visiting Maya Bay.
Khai Island: The heaven of every age people, a million kinds of fish can be touched just on the beach, and the snorkeling can be done perfectly around the Island.
The virgin of Bamboo Island: Normally, this place will be included in the Upper Price Tour Package only. But this unlimited stop route will stop as special to visit this far beautiful island.
Viking Cave: The old people said it was the cave for the pirate hiding the police in the park, but now it is the place for bird making nests and a beautiful place for tourists.
Pileh Cove: It is a small cove on the back of Maya Bay. And the place belongs to a million kinds of fishes giving birth. We stop here to do a great snorkeling.
The biggest nature swimming Pool in the World, but it was made by Nature Time (Over 1,000 years) Loh Samah Bay is covered by the Mountain. In this bay you can prove that you can float on the water without any "Life Jacket." Everyone can do it. (No need for swimming.)
Just one moment in time, the Monkey beach will become quiet, a hundred of Monkeys come to walk down on the beach. Just the tour with a small group as the Private only can choose the time. For sure that, this Premier Route can give you full happiness on the Monkey Beach.
Brief Programs

| | |
| --- | --- |
| 07-30-08.00 | Pick up from the hotel by joining a mini bus and transfer to Boat lagoon Marina. |
| 10.00 | Arrive at Bamboo Island where the naturally white sandy beach paradise and quiet  island for relaxing. |
| 11.00 | Snorkeling at Shark point. Fortunately! Have a great exciting experience swimming with sharks. |
| 12.00-13.00 | Have a great Lunch at the hotel restaurant at Phi Phi Don Island. Visit "Monkey Beach" for feeding monkey, Taking photos. |
| 13.30-15.30 | Sightseeing Phi Phi Lay Island, "Viking Cave ''(bird nest cave), Jumping from in front of the boat at "Pileh Lagoon '' the crystals clear water. After that, I went to "Maya Beach '' the world famous beach feature filmed "The Beach '' for swimming and relaxing on the beach. |
| 15.30-16.45 | Departure from "Maya Bay" to "Khai island. "After that, we visited  Khai Island which  has a very beautiful white sandy beach for swimming, snorkeling and relaxing around the island. |
| 17.00 | Depart from Khai Island to Boat Lagoon Marina. And transfer back to the hotel. |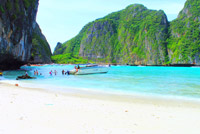 Price

| | |
| --- | --- |
| Adult | 3,300 Baht/person |
| Child | 2,500 Baht/person |



Book Now!!! Gets FREE of Charge Transfer in by Private Minibus (Airport-Your Hotel)
Price includes:
Round trip transfer by air-con vehicle
Full insurance
Private sightseeing tour by air-conditioned vehicles with English-speaking guide.
Transfer from / to hotel.
Lunch
Soft drink & Fresh fruit
Life Jacket
What to bring:
Beach towel
Shorts & light T-shirt
Swimming Suits
Sun block
Sun cap
Sunglasses
Camera
Remark:
Children under 1 year of age are not recommended
Guest who have high blood pressure, heart condition, surgery on back or who may be pregnant are advised to consult their doctors before joining the excursion.
---
Why Jc.Tour?:
Jc.Tour had registered for Tourism Company under the rule of Thailand Law: Both Outbound(31/01235) for around the world travel. Inbound(34/00235) for traveling in Thailand.
The right registration can be checked, and you can check for Jc.Tour at http://www.tourism.go.th
Jc.Tour is the Top Responsible and Great Service in TripAdvisor Rank.
Jc.Tour has been registering for Accident Insurance all around the world (Inbound: for travelling in Thailand and Outbound for around the world travelling). This makes sure that all the customers of JC Tour will be covered by Insurance in everywhere of the world they reach.
Before, During and After the service, you can contact us 24 hours.

Telephone :
+66 89 5727603
Line ID : @jctour
Whatsapp :
+66 84 8053153

| | | |
| --- | --- | --- |
| | + Phuket, THA | |
| | | |
| | + Bangkok, THA | |
| | | |
| | + Chiangmai, THA | |
| | | |
| | + Chumphon, THA | |
| | | |
| | + Koh Tao, THA | |
| | | |
| | + Koh Samui, THA | |
| | | |
| | + Surin Island, THA | |
| | | |
| | + Haatyai, THA | |
| | | |
| | + Khaosok, THA | |
| | | |
| | + Khaolak, THA | |
| | | |
| | + Krabi, THA | |
| | | |
| | + Lanta Island, THA | |
| | | |
| | + Mergui, MYAN | |
| | | |
| | + RajaAmpat, IDN | |
| | | |
| | + Laos, LAO | |
| | | |
| | + Unique, THA | |
| | | |
| | + Longtail Boat Charter Around Thailand | |
| | | |