The one you are waiting for..

Phuket is the center of Thailand' Southern Tourism. Phuket has so many nice resorts and hotels for all tourists around the world, as well as it is surrounded by so many beautiful islands and interesting places for tourists. And the most important is that you can fly directly into Phuket because many airlines around the world service their direct flights.

Krabi is a newer and smaller tourism center of the Southern, but Krabi has several very nice unseen snorkeling places such as Porda Island, Separated Sea, Chicken Island and Pranang Bay. All of the said spots are coming to be a must see area in Thailand.

For sure that you need to have a nice holiday in the south of Thailand, you must come to Phuket. But some part of your heart needs to see an unseen place in Krabi as well.

Jc.Tour (Phuket) has solved your problem already; "One Day trip Phuket-Krabi by Speed Boat is the One." Please see some highlight pictures and submit the booking to fulfill your dream now.
Porda Island: One beach around the Island. On Poh-Da Island, you can do the snorkeling in any spot on the Beach. you can go snorkeling in any spot on the Beach. You can walk around the Island by the beach as well. (No hotel on this Island)
Chicken Island: The shape of this island is quite the same as a chicken on the water. But the Island has a great place for snorkeling with a lot of marine life and coral reef.
Separated Sea (Or Tale-Wak); One moment in time, the water comes down, it opens the white sandy beach road that crosses from Tub Island to Koh Porda. The must moment you have to see.
Pranang Bay; the ancient people told the story that "A princess escaped from the Palace" with a lot of wealth in the boat. She stops to make a new palace and hides her wealthy heart. But we came here not to look for her palace, but we came for an unseen beautiful beach of the place.
Hong Island; It was considered to be the best place for relaxing in Thailand. We stop on this Island to discover around as well as do the snorkeling around.
As from Phuket to Krabi is quite far, we must be sure that "Our boat" must be the new modern and fast enough to take our customer to see every unseen place in Krabi.
Brief Program

| | |
| --- | --- |
| 07:45 AM: | Pick up from every hotel on Phuket Island by Minivan. |
| 09:00 AM: | Depart from The Royal Phuket Marina to Hong Island. It is Very beautiful place for snorkeling and swimming. |
| 11:00 AM: | Depart from Hong Island directly to "Chicken Island" Paradise of coral reef & Fishes lovers. You must snorkel here. We continued to sigh-seeing "Ao-Nang Beach and stopped at World Class Railay Beach. |
| 13:30 PM: | We serve lunch on Railay Beach. |
| 14:30 PM: | We depart to Po-Da Island for snorkeling and visit the "Separated Sea (Tale-Wak) We waited until the moment the Sea separated. |
| 17:30 PM: | We arrive at the Pier in Phuket and transfer back to your hotel. |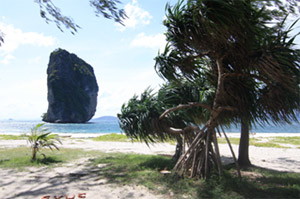 Price

| | |
| --- | --- |
| Adult | 3,300 Baht/person |
| Child | 1,650 Baht/person |



Book Now!!! Gets FREE of Charge Transfer in by Private Minibus from Airport-Hotel by private Car
(No need to wait the other) of Jc.Tour.
Tour includes:
Pick UP and Drop Off from the Hotel in Phuket
Soft Drinks (Coke, Fanta, Orange and Drinking Water)
Snack: (Potato, Snack Jack or crisper)
Fruits: (Papaya, Pineapple, watermelon)
Snorkeling Marks and Gears
Accident Insurance
High Expert English Tour Guide.
What to bring:
Swimming suite
Dry clothes
Beach towel
Sun block lotion
Sun cap, sun glasses
Walking shoes
Camera
Lot of smile
Remark: minimum booking 2 people.
---
Why Jc.Tour?:
Jc.Tour had registered for Tourism Company under the rule of Thailand Law: Both Outbound(31/01235) for around the world travel. Inbound(34/00235) for traveling in Thailand.
The right registration can be checked, and you can check for Jc.Tour at http://www.tourism.go.th
Jc.Tour is the Top Responsible and Great Service in TripAdvisor Rank.
Jc.Tour has been registering for Accident Insurance all around the world (Inbound: for travelling in Thailand and Outbound for around the world travelling). This makes sure that all the customers of JC Tour will be covered by Insurance in everywhere of the world they reach.
Before, During and After the service, you can contact us 24 hours.

Telephone :
+66 89 5727603
Line ID : @jctour
Whatsapp :
+66 84 8053153

| | | |
| --- | --- | --- |
| | + Phuket, THA | |
| | | |
| | + Bangkok, THA | |
| | | |
| | + Chiangmai, THA | |
| | | |
| | + Chumphon, THA | |
| | | |
| | + Koh Tao, THA | |
| | | |
| | + Koh Samui, THA | |
| | | |
| | + Haatyai, THA | |
| | | |
| | + Khaosok, THA | |
| | | |
| | + Khaolak, THA | |
| | | |
| | + Krabi, THA | |
| | | |
| | + Lanta Island, THA | |
| | | |
| | + Mergui, MYAN | |
| | | |
| | + RajaAmpat, IDN | |
| | | |
| | + Laos, LAO | |
| | | |
| | + Unique, THA | |
| | | |
| | + Longtail Boat Charter Around Thailand | |
| | | |