The trip offer a great day to visit "double things to do in Phuket", One is "Elephant Bathing" this is suitable for elephant lovers. An the other thing is "Phuket City" which is do it on the afternoon time.

Elephant Bathing.
Elephant Bathing Camp is located in the Local Area with a great green tropical safari. To make sure this place is suitable for high quality living life of elephants- Thick Nature, No chains, No Elephant Goads and No any elephant ridding.

However, the people can be close friend with elephants by do activities together in the original nature of elephant life: Being rub and muddy in the mud spa lake, Fresh water Showing with elephant and Take a bath for elephant in the fresh clean water pool as well as feeding and touching as a good friend.

Phuket City Tour
After finished with elephant things, Take a bath and change the cloth, having a nice Thai Buffet Lunch amid the natures clean restaurant on Elephant Camp Area. Our tour guide take you to do the Phuket City Tour which started from the North side of Phuket - Golden Monks Temple, T-Shirt Factory, Phuket Old Town, Chalong Temple, Souvenir Hand Made Factory -WangThalang and the last Big Buddha on the Top view of Narkert Hill.
Program: (Daily)

Morning Part:
07:00 AM:
The private car of Jc.Tour Picks your group from the hotel (No extra charge in every area)
08:00 AM:
Arrival the Elephant Camp.
- Feeding Young Elephant and Old One as well. - Being friend at the fist sight.
- English Tour guide present all the idea of Elephant Care and Brief Program
- Changing the Cloths.
- Rub yourself and Elephant with mud in the Spa Mud Pool.
- Afterward move to the clean fresh water pool, wash the mud out from yourself and help the Elephant take it out too.
- The last being a good friend by take a shower together (The large shower) with elephant.
- Clean yourself and change the cloth.
12:00 PM:
Enjoy a rich, authentic Thai Buffet Lunch.
13:30 PM:
Say Good By to your elephants.
Afternoon Part:
14:00 PM:
We arrival the Golden Monk which is half body is buried in the earth, just the top half is out. Half Golden Monk at the Temple.
- Visit T-Shirt Factory
- Old Phuket Town.
- Chalong Temple (The most beautiful temple of Phuket)
- Hand Made Souvenir (Wongtalang Factory)
- Big Buddha on the Top of Narkert Hill.
17:30 PM:
Arrival your hotel.
Price :



| | |
| --- | --- |
| Adult | 3,900 Baht/Adult |
| Child | 3,500 Baht/Child (4-10 years old) |
The price includes
Elephant Bathing
Buffet Lunch
Soft Drinks (All the time)
Phuket City Tour
All entrance Fee to the destinations of Program (No more any Extra Charge)
R/T Transfer by Private Minibus. (Just one booking/One Minibus)
Insurance
What to bring
Shorts & light T-shirt
Sun block
Sun cap
Sun glasses
Camera
Lots of smiles

---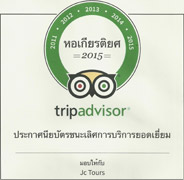 Why Jc.Tour?:
Jc.Tour had registered for Tourism Company under the rule of Thailand Law: Inbound(34/00235)
The right registration must be checked, and you can check for Jc.Tour at http://www.tourism.go.th
Jc.Tour is the Top Responsible and Great Service in TripAdvisor Rank.
Jc.Tour has been registering for Accident Insurance all around the world (Inbound) This make sure that all the customer of jctour is covered by Insurance in every where.
Before, During and After the service, you can contact us 24 hours.