| | |
| --- | --- |
| The northern Sigh Seeing Chiang Mai-Chiang Rai | |
+ Golden Triangle,
+ Long-Neck Karen Hill Tribes
+ Hill Tribes Villages,
+ Imagined Temple (Rong-Khun)
+ Ancient Temple at Chiang -Saen
+ Hot-Spring
+ Long Tail boat to Laos. (Country)
The sigh seeing from Chiang Mai to Chiang Rai Trip means Northern of Thailand Trip. If you miss this, you miss northern. In the other way, you took this tour trip you have got the northern. Why? The reason is by this trip road pass nearly every interesting places of Thailand's Northern.

Before submit the booking, please see the highlight pictures in our trip and see the brief itinerary before.







The imagine temple (Wat Rong-Khun)

which is built for continuing the Buddhist by the Great Artist of Thailand. You can see him there as well.





Golden triangle

is the end border for 3 Countries, Thailand, Myanmar and Laos. From this point, we can take the long tail boat to Laos as well.





The ancient Temple

, this temple was biult in the ancient Capital of Thai. In that period we called Cheng-San Kingdom. Full of valued history clue around the temple





Hill Tribes Village

, Look for the easy and simple of living life and doing work of Hill tribes. Discovery and study them by conversation.





Hot Spring Area

, on the road from Chieng Mai to Chieng Rai there is a lot of Hot Spring spots, our trip will stop to see and enjoy boiling the eggs from the nature mineral.





Nightmare of the world

Detail of the opium museum which starts from growing, making, using and determination

Visit the end Land of the Northern Thailand "Measai Market" Here you can do shopping the product from 3 countries in the same time (Yes, very cheap.)
Program :



| | |
| --- | --- |
| 08:00 AM: | Pick Up from your hotel in Chiang Mai by Jc.Tour Coach. |
| 09:00 AM: | Drive passes the rural quiet Road, sightseeing on the road sides with text wood forest, small water fall and local people garden and homes. |
| 09:30 AM: | Stop at Hot spring, discovery the places. |
| 11:00 AM: | White Temple or Immerging Temple or Rong-Khun Temple, Here it should be the temple from the dream. |
| 12:00 PM: | Royal Pagoda Temple or Ancient Temple at Chieng Saan, discovery the Clues of Thailand's history. (Many Places) |
| 13:00 PM: | Lunch as the Thailand Northern Food Styles Restaurant. |
| 14:00 PM: | The border of 3 Countries, Burma, Laos and Thailand "Golden Triangle" is located in the Large Kohng River here. Yes, you can see the 3 countries land in the same time. |
| 14:30 PM: | Take the Long Tail Boat to visit the neighbor country "Laos" Study the traditional of Laos People by talking. |
| 15:30 PM: | Visit the end Land of the Northern Thailand "Measai Market" Here you can do shopping the product from 3 countries in the same time (Yes, very cheap.) |
| 16:30 PM: | Visiting Hill Cribs Village. |
| 17:30 PM: | Drive Back to Chiang Mai. |
| 20:00 PM: | Arrive your hotel in Chiang Mai. |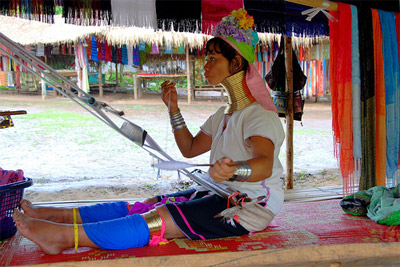 Price :



| | |
| --- | --- |
| Adult | 2,500 Baht/person |
| Child | 2,300 Baht/person (3-10 years old) |
** Make the booking Now - 15 October for any time using, get the special Price is just
- 1,850 Baht/Adult
- 1,200 Baht/hild
The price includes
National Park Fee
Tour Guide
Entrance Fee for every point in the Program
Soft Drinks
Lunch
Insurance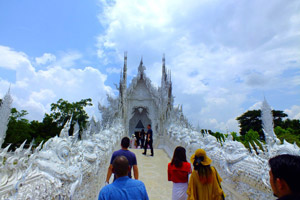 Remark: This trip is right reserved by Jc.tour provider only, no for sale in any OTA (Online Travel Agent)


---
Why Jc.Tour:
Jc.Tour had registered for Tourism Company under the rule of Thailand Law: Inbound(34/00235)
The right registration must be checked, and you can check for Jc.Tour at http://www.tourism.go.th
Jc.Tour is the Top Responsible and Great Service in TripAdvisor Rank.
Jc.Tour has been registering for Accident Insurance all around the world (Inbound) This make sure that all the customer of jctour is covered by Insurance in every where.
Before, During and After the service, you can contact us 24 hours.

| | | |
| --- | --- | --- |
| | + Phuket, THA | |
| | | |
| | + Bangkok, THA | |
| | | |
| | + Chiangmai, THA | |
| | | |
| | + Chumphon, THA | |
| | | |
| | + Koh Tao, THA | |
| | | |
| | + Haatyai, THA | |
| | | |
| | + Khaosok, THA | |
| | | |
| | + Krabi, THA | |
| | | |
| | + Lanta Island, THA | |
| | | |
| | + Mergui, MYAN | |
| | | |
| | + RajaAmpat, IDN | |
| | | |
| | + Laos, LAO | |
| | | |
| | + Unique, THA | |
| | | |

Telephone :
+66 89 5727603
Line ID : @jctour
Viber :
+66 84 8053153
Whatsapp :
+66 84 8053153

Day Trip
2 Days 1 Night
3 Days 2 Nights
4 Days 3 Nights