Laos is the new destination for tourists around the world, but the direct flight to Laos is still difficult to book the Air ticket and the expense is always over budget.

Nowadays, visiting Laos is easier by booking the Tour package starting from Phuket. 3 Days 2 Nights visiting Laos is the package can make you touch Phuket + Udonthani (An Eastern Province of Thailand) + Luang-Prabang (Most beautiful Province of Laos) + Vieng-Jan (Laos Capital)
This trip is good for the tourists who have a plan to visit Laos; you have to come to Phuket first. Or this trip is very good for the tourist who has a long holiday in Phuket and would like to discover more about different traditions and get more value from the holiday.

We very invite you to book this trip "If you really want to see something difference".
Night Market and walking street at UD Plaza in Udonthani.
This Shopping place is the center of Thailand's Eastern provinces product. Millions of local people's products are collected here.
Tad Kuang Si Waterfall, this waterfall was considered to be the most beautiful waterfall in Asia. (70 Meters High, and 2 Classes of Lakes) Double great place for swimming in the freshwater in Luang-Prabang.
Phousi Mountain, there is a Prathat (Pagoda which the bone of Lord Buddha is in) on this mountain. But more special is that you can sightsee at a 360 Degree view of Luang Prabang from the Phusi. "No Phusi, no Luang-Prabang" that all Laos People said.
The very interesting tradition of Luang-Prabang is Donation by giving sticky rice to the monks. In this tradition, you can see a thousand monks on every road of Luang-Prabang Town as well as a very polite and beautiful tradition.
Thing Cave, this cave has been found that was hidden in the Kong River for a thousand years. Inside there are a lot of historic clues like a thousand Buddha or the other clue like a old chap of limestone and Old Potteries in the caves.
Hand made Village (Baan Hai) this place is the king of Whisky and Pottery makers
The old Palace of Life of Laos Owner (The last King of Laos), Temple of Prachow Mark Vichoonchom (It look like the half of Water melon), Cheang Thong Temple; "High Valued Jewelry of Architecture Field, the world archaeologist said"
Black Market of Laos, where you can buy all brand name products in dark.
| | | |
| --- | --- | --- |
| | | |
| Si-Muang Temple | Emerald Buddha Museum | Royal grand Pagoda |
Laos is the Buddhist Country, so you can see a lot of historical temples around the country.
The winning Gate Lao-French architect. In the years of France appropriate the Laos, France try to a good partner with Laos's Government and being friend with Laos's people. This gate has been built by France and Laos Co-operation.
Morning Market or China Market, all goods are sent from China and Local People in Laos, only the place you can buy BB at 27 US Dollars
We use both Thai Air-Asia and Laos Airline for this package
Itinerary :



Day1: Phuket- Udon Thani




11:00 AM:
Pick Up from your hotel in Phuket
13:00 PM:
Fly by Air-Asia to Udonthani (a province of Thailand's Eastern part)
16:30 PM:
Jc.Tour Officers welcome you at Udonthani Airport and continue to Check In at Prajaktra Hotel
Free time until Dinner Time.
We pick you up from the hotel to Kruar Charoen Restaurant (Enjoy your nice dinner)
Free time to discover UD Plaza of Udonthani Province.





Day2: (Udonthani - Luang Prabang)




07:00 AM:
Breakfast at the Hotel
Check Out the hotel, Jc.Tour Staff pick you up to check in at Udonthani Airport
11:00 AM:
Fly by Lao Airline to most beautiful city of Lao "Luang Prabang"
12:00 PM:
Jc.Tour Staff pick you up from Luangprabang Airport to "Kwang Tad Si Waterfall" Swimming at the lake of Waterfall discovery, after refreshed, we continue up to Prathat Phusi on Phusi Hill, See and take the photo the great pagoda with relics of Lord Buddha or Prathat, and 380 degree of "Luang Prabang City View"
18:00 PM:
Check In at Luang-Prabang Resort in Town.
Let your heart guide you for nightlife of Luang Prabang





Day3: Luang Prabang + Ting Cave + CheangThong + Black Market




06:00 AM:
Wake up to join the traditional of Donation by Sticky Rice giving to the Monks.
07:30 AM:
Breakfast at the Hotel
08:30 AM:
Start to cruise by Local Boat to the entrance of "Ting Cave" 30 Kilometers in Cave with Historic Clue and stranger shape of 1,000,000 Years old of Limestone as well as a thousand of Holy Pictures and Buddha along the discovery way.
Afterward, we stopped at "Chang-Hai Village." In this village, there are many potteries Maker and liqueur Maker or booze maker, so you can taste many nice local whiskies and consider their art products.
12:30 PM:
Lunch at the Restaurant in Luang Prabang Town.
Visit the Master Piece Architect of Asia "Cheang Thong Temple" and The Old Royal Palace of Last Lao King and Shopping on "Black Market"
18:00PM:
Dinner at the restaurant of the hotel
One more time let your heart guide you for nightlife





Day4: Luang Prabang + Vieng Jan + Udonthani + Phuket




08:00 AM:
Breakfast and check Out.
Transfer to Luang-Prabang Airport and Jc.Tour office will take care you as closely and fly to "Vieng Jan, the capital of Lao"
11:00 AM:
We visit the "Winning Gate Monument" and the Royal Grand Pagoda (The Biggest Pagoda of Laos) "Chinese Market" looking, shopping for goods from China, Vietnamese and Lao.
14:00 PM:
Continue to the "Friendship Bridge '': combining between Lao and Thailand, over the Khong River. Stop at Duty Free shop to find some brand name product with the "Price no Tax". In the meantime, Jc.Tour Staff working about the documents to pass to Thailand
15:00 PM:
Check in at Air-Asia Counter and fly to Phuket
17:00 PM:
Jc.Tour Officers welcome you back to Phuket and take care by Private Car back to your second home in Phuket.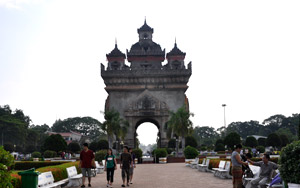 Price

| | |
| --- | --- |
| | 55,000 Baht/person(Twin sharing) |
The price includes
Air Ticket (Phuket - Udon Thani - Luang Prabang- Vieng Jan - Phuket)
All transfer
All entrance fee for the place in the Package
Cruising Boat
All Visa fee or Boarding Pass
All meal (9 Meals)
3 Nights Accommodation (Twin Sharing)
All language with all area of Tour Guide
Insurance for accident (1,000,000 Baht)
Documents which you have to prepare
Passport or ID card (Copy)
Infant without Passport or ID card, please prepare 2 Photos with Birth Date registration Document.
The condition of Booking
Please confirm 20 days before the service date.
Deposit 30 Percentage by money transfer and 70 Percentage should be settled one day before the service date at Phuket.
The Document must be sent to us 14 days before the service date.

---
Why Jc.Tour?:
Jc.Tour had registered for Tourism Company under the rule of Thailand Law: Both Outbound(31/01235) for around the world travel. Inbound(34/00235) for traveling in Thailand.
The right registration can be checked, and you can check for Jc.Tour at http://www.tourism.go.th
Jc.Tour is the Top Responsible and Great Service in TripAdvisor Rank.
Jc.Tour has been registering for Accident Insurance all around the world (Inbound: for travelling in Thailand and Outbound for around the world travelling). This makes sure that all the customers of JC Tour will be covered by Insurance in everywhere of the world they reach.
Before, During and After the service, you can contact us 24 hours.